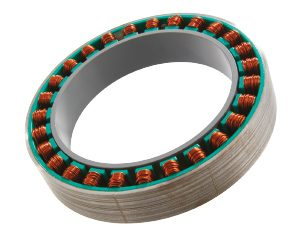 Conventional machine designers typically focus on selecting an off-the-shelf, housed motor to establish the motion axes. Occasionally, a designer will modify a standard motor's physical dimension, windings, or combinations of both, to customize to an application. An alternative to customizing a servo motor is utilizing a frameless motor and integrating directly into the machine itself.
Orion motors consist of a rotor and stator set that, when combined with a feedback element, offer significant advantages when integrated directly into the machine actuators. While assembling a frameless motor may seem difficult, the process is actually similar to the other assembly requirements of machine construction.
Why would a machine designer use a Direct Drive motor solution over a conventional housed design? A frameless motor design makes sense when considering:
Performance 

Environmental Factors

Aftermarket Solutions

Intellectual Property Protection

System Cost Reduction
Performance
Integration of a frameless motor into a machine provides several performance advantages. Integrating the motor directly to a rotating shaft element can reduce overall system inertia. Reduced inertia also reduces the torque required to accelerate and decelerate the motor which, in turn, improves move and settling times to increase system bandwidth. Frameless motors have similar winding options as standard motors and can also be customized to optimize performance. Machine performance optimization provides the machine builder with advantages to potentially differentiate their machine from the competition.

Our state of the art machining and assembly sections ensures every motor is dimensionally precise. Our winding section ensures every copper conductor is optimal in our motors. The Vacuum Impregnation and Encapsulation units installed offers electrical and mechanical robustness.
Environment Factors
Motion actuation design may require a machine designer to manage specific environmental factors. For example, the incorporation of a frameless motor into a sealed housing that is required for other mechanical and environmental elements can lead to the simplification of the overall machine design. Standard housed motor designs are typically rated for an industrial environment and can handle typical factory dust and heat. When special environments are encountered, however, such as extreme heat or cold, vacuum, radiation, or caustic washdowns, it is then necessary to customize the motor to meet the specific environmental challenges. Frameless motors offer a large variety of options to integrate the motor to both the machine and the required environmental conditions.

Environment Factors
Aftermarket Solutions:
The integration of a frameless servo motor into a machine design results in a proprietary incorporation of the motion elements into the machine builder's overall design. The new configuration of the motor elements is now "owned" by the machine builder and requires the end user to purchase spares directly from the builder, which protects aftermarket sales. This frequently overlooked benefit provides an increased revenue stream over the life of the machine design.
Intellectual Property Protection:
A compelling reason to consider frameless designs is that a customized frameless servo motor design provides unique functional capabilities that may be patentable (or are easily protected).
Cost:
The elimination of the standard housed motor design elements that are not required for the specific application can help reduce the unit cost of the motor, even when upfront costs are considered. Certain standard features, such as sealing, connectorization, or feedback elements, can be integrated into the machine assembly to eliminate extra housings, bearings, couplings, and other elements that are required when using a housed motor.
When deciding to use a frameless motor to customize motion elements, the designer needs to consider the overall machine performance, ease of assembly, and feature requirements. A frameless motor integrated into a machine design can add a competitive advantage over a standard housed motor solution to increase sales. When considering the integration of a frameless servo motor into a machine design, looking at vendors that excel in motor development and design capabilities is paramount. An experienced vendor, such as Nimble Electric, acts as an extension of the customer's engineering team to help obtain the best solution for the machine builder's needs.

Author: Nimble Electric Experts
This blog was a collaborative effort among a team of experts here at Nimble Electric, including engineers, customer service and design experts. Wherever you are in your project, we're here to help.